Home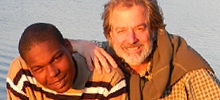 Our Mission
UrbanTrekkers' mission is to be an outdoor, hands-on, up-close learning and mentoring program, where the world is our classroom. We travel to places beyond students' everyday lives, to sites where learning comes alive and students have room to grow. 
What We're Doing...
UrbanTrekkers' expeditions and boat-building adventures are designed to educate and empower youth. Learn more about our current travels and builds and what's to come!
UrbanTrekkers and Urban BoatWorks couldn't operate without our supporters and volunteers. Consider joining us in the boat shop, sponsoring a Trekker, or helping to fulfill our wish list!
Read Our UrbanTREKKERS Blog
Feb 11, 2015
The ice groaned. I had my Trekker student leaders out for a mid-January late night walk along the trail to Catfish Pond in the Delaware Water Gap where the Appalachian Trail cuts through New Jersey.  The temperature outside the cabin door read 17 degrees. No wind made for a clear, crisp night where we could see the Milky Way.  Students were challenged to be silent as we hiked single file along...