Home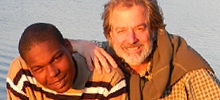 Our Mission
UrbanTrekkers' mission is to be an outdoor, hands-on, up-close learning and mentoring program, where the world is our classroom. We travel to places beyond students' everyday lives, to sites where learning comes alive and students have room to grow. 
What We're Doing...
UrbanTrekkers' expeditions and boat-building adventures are designed to educate and empower youth. Learn more about our current travels and builds and what's to come!
UrbanTrekkers and Urban BoatWorks couldn't operate without our supporters and volunteers. Consider joining us in the boat shop, sponsoring a Trekker, or helping to fulfill our wish list!
Read Our UrbanTREKKERS Blog
Feb 25, 2016
We shared the love of trekking! The UrbanTrekkers mixed it up this past weekend; instead of exploring a new place we seized the opportunity to hang with our sister program, Trekkers, from Maine. The Maine Trekkers were making their way down the Northeast coast on their Ride through History tour; we thought what better way than to share the history of our very own city, Camden. From the boom of...