Home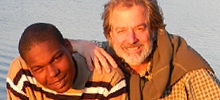 Our Mission
UrbanTrekkers' mission is to be an outdoor, hands-on, up-close learning and mentoring program, where the world is our classroom. We travel to places beyond students' everyday lives, to sites where learning comes alive and students have room to grow. 
What We're Doing...
UrbanTrekkers' expeditions and boat-building adventures are designed to educate and empower youth. Learn more about our current travels and builds and what's to come!
UrbanTrekkers and Urban BoatWorks couldn't operate without our supporters and volunteers. Consider joining us in the boat shop, sponsoring a Trekker, or helping to fulfill our wish list!
Read Our UrbanTREKKERS Blog
May 9, 2023
When the forecast called for rain, Kelly Maxted smiled and said, "that would be very British." That was last June when with the lovely London-like soft rain splashing on the Cooper River, Kelly and her husband, Luke, and their two young sons launched the 16-foot cedar strip canoe that they had helped build at the Urban BoatWorks shop in South Camden during 2022. "When all of the volunteers came...