Home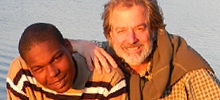 Our Mission
UrbanTrekkers' mission is to be an outdoor, hands-on, up-close learning and mentoring program, where the world is our classroom. We travel to places beyond students' everyday lives, to sites where learning comes alive and students have room to grow. 
What We're Doing...
UrbanTrekkers' expeditions and boat-building adventures are designed to educate and empower youth. Learn more about our current travels and builds and what's to come!
UrbanTrekkers and Urban BoatWorks couldn't operate without our supporters and volunteers. Consider joining us in the boat shop, sponsoring a Trekker, or helping to fulfill our wish list!
Read Our UrbanTREKKERS Blog
Jan 9, 2015
What comes to mind when you think of a fifteen year old kid? Some people laugh, remembering what they were like at 15. Others think of their own children at that age and the struggles they went through. Many, especially those who aren't around fifteen year old kids on a regular basis, roll their eyes, recalling stories of an annoying kid that was being too loud, making awkward conversation, or...