Home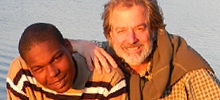 Our Mission
UrbanTrekkers' mission is to be an outdoor, hands-on, up-close learning and mentoring program, where the world is our classroom. We travel to places beyond students' everyday lives, to sites where learning comes alive and students have room to grow. 
What We're Doing...
UrbanTrekkers' expeditions and boat-building adventures are designed to educate and empower youth. Learn more about our current travels and builds and what's to come!
UrbanTrekkers and Urban BoatWorks couldn't operate without our supporters and volunteers. Consider joining us in the boat shop, sponsoring a Trekker, or helping to fulfill our wish list!
Read Our UrbanTREKKERS Blog
Sep 23, 2014
"I can honestly say I had the best summer of my entire life! So many opportunities came to me and I took them, and it resulted in a great summer. I met so many new people and built great relationships with them, in Miami, in Colorado with Honduras Trekkers, and in Maine.  I also learned so much about myself and others. I'm grateful for everything that God has blessed me with."  —Kytara, 11th...