Home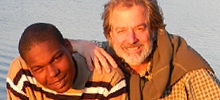 Our Mission
UrbanTrekkers' mission is to be an outdoor, hands-on, up-close learning and mentoring program, where the world is our classroom. We travel to places beyond students' everyday lives, to sites where learning comes alive and students have room to grow. 
What We're Doing...
UrbanTrekkers' expeditions and boat-building adventures are designed to educate and empower youth. Learn more about our current travels and builds and what's to come!
UrbanTrekkers and Urban BoatWorks couldn't operate without our supporters and volunteers. Consider joining us in the boat shop, sponsoring a Trekker, or helping to fulfill our wish list!
Read Our UrbanTREKKERS Blog
Apr 7, 2017
Congratulations and WELCOME to Tom Calisterio our new Program Director at Urban BoatWorks.  Although, it seems a bit odd to welcome Tom who has been with us since day one.  Tommy was one of the founding volunteers from the summer of 2009 who helped us begin the program that brought 5 young men and 5 not so young men together to build three wooden skiffs, Promise, Grace and Faith in a broken, run-...