Home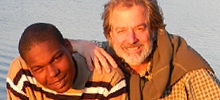 Our Mission
UrbanTrekkers' mission is to be an outdoor, hands-on, up-close learning and mentoring program, where the world is our classroom. We travel to places beyond students' everyday lives, to sites where learning comes alive and students have room to grow. 
What We're Doing...
UrbanTrekkers' expeditions and boat-building adventures are designed to educate and empower youth. Learn more about our current travels and builds and what's to come!
UrbanTrekkers and Urban BoatWorks couldn't operate without our supporters and volunteers. Consider joining us in the boat shop, sponsoring a Trekker, or helping to fulfill our wish list!
Read Our UrbanTREKKERS Blog
Sep 3, 2015
"Adding wings to caterpillars does not create butterflies it creates awkward and dysfunctional caterpillars.  Butterflies are created through transformation."  Stephanie Pace Marshall. For the Monarch butterfly, lasting transformation also requires a journey.  A new school year begins at the UrbanPromise Academy (UPA) but not without our Freshman Orientation-- two days at North Bay Adventures on...