Home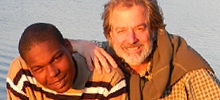 Our Mission
UrbanTrekkers' mission is to be an outdoor, hands-on, up-close learning and mentoring program, where the world is our classroom. We travel to places beyond students' everyday lives, to sites where learning comes alive and students have room to grow. 
What We're Doing...
UrbanTrekkers' expeditions and boat-building adventures are designed to educate and empower youth. Learn more about our current travels and builds and what's to come!
UrbanTrekkers and Urban BoatWorks couldn't operate without our supporters and volunteers. Consider joining us in the boat shop, sponsoring a Trekker, or helping to fulfill our wish list!
Read Our UrbanTREKKERS Blog
Dec 28, 2015
"When we got to New York I saw a lot of diversity and tall buildings.  I felt like an ant." – Yormelis On December 16th, UrbanTrekkers went to NYC with the 11th grade from UrbanPromise Academy.  Most students had never been to NYC before, and none had been to the 9/11 Memorial museum. Just like a NYC block, our day was packed to the brim and had a whole smattering of emotions to accompany the...