Home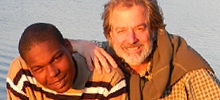 Our Mission
UrbanTrekkers' mission is to be an outdoor, hands-on, up-close learning and mentoring program, where the world is our classroom. We travel to places beyond students' everyday lives, to sites where history was born and comes alive. We seek to experience culture and the arts through a myriad of opportunities, in our region and beyond.
What We're Doing...
UrbanTrekkers' expeditions and boat-building adventures are designed to educate and empower youth. Learn more about our current travels and builds and what's to come!
UrbanTrekkers and Urban BoatWorks couldn't operate without our supporters and volunteers. Consider joining us in the boat shop, sponsoring a Trekker, or helping to fulfill our wish list!
Read Our UrbanTREKKERS Blog

Jul 21, 2014
Before arriving in Camden, I wasn't sure what my summer internship with UrbanTrekkers would hold. Over the past two and a half months, I spent two days on Sedge Island with the freshmen learning about marine habitats. I rowed a whaleboat for 15 miles along the Delaware River, paddled multiple times along the Cooper River, competed in the Philadelphia Dragon boat Regatta, and participated in a 5-...