Blog: October 2011
Senior Fall Outdoor Leadership Training in the Delaware Water Gap
"For years, copying other people, I tried to know myself. From within, I couldn't decide what to do. Unable to see, I heard my name being called. Then I walked outside" Rumi
We were near the end of our two day hike on the Appalachian Trail (AT) following a ridge line on the Kittatinny Mountains in the Delaware Water Gap. It was our Fall Outdoor Leadership Training (OLT) for our UP Academy seniors – the early fall weather had been exceptional with just a tad of crispness in the autumn mountain air. The hiking had been extremely challenging; the unusually heavy summer rains had eroded a significant amount of trail surface leaving exposed and loose rock. Turned ankles and twisted knees were unavoidable and all of us had experienced a fall or two.  At this time in the day the stress and tensions from the trekking were as exposed as the rocks.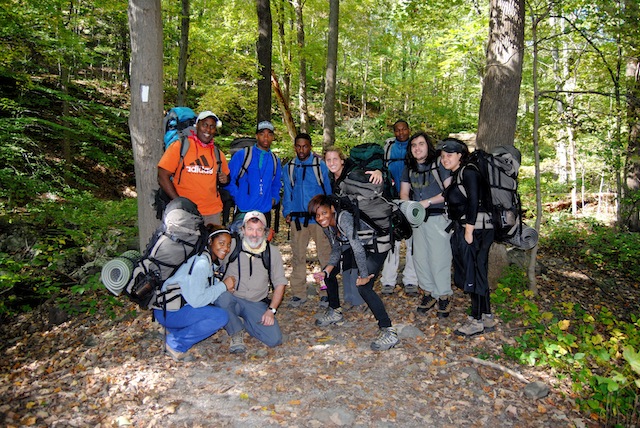 One of the students was really struggling, more than the rest. The weight of her pack seemed to take on more pounds with each passing step. She needed to rest; her ankles were sore and hurting from multiple twists. Unfortunately some of her classmates who were also tired and hurting did not want to stop, they wanted to go faster and get to the end of the trail; they were ready to be done. I reacted with a quick rebuke for the students who showed an indifference to their classmate's struggle. The correction was not well received and a student snapped back at me saying, "I didn't ask to come on this trip, I'm not an outdoor person, this is your thing, not mine." The moment passed…but the tension was not far from the surface.
In camp later that evening, after a beef stew dinner with the warmth of a crackling fire beside us, it was now time to unpack what had happened during the day. "You don't get it," I started. "This is not about the outdoors, it's about character". Whether on a four day portage and paddle trip across the Saranac's, white water rafting on the Nolichucky, or on a grueling ten mile hike on the AT , it is all about finding our true selves…because I know in these moments of our greatest stress we reveal our true selves - for good, for bad. They listened silently; the tension dissipated; the student who snapped earlier during the day now offered an apology. And, I admitted that if they enjoyed the outdoors (or better yet became an outdoor naturalist or a park ranger), I would be overjoyed.
We drove back to Camden Sunday morning leaving the Kittatinny Mountains and the Appalachian Trail behind us; back to the city… and maybe, just maybe, we know ourselves a little bit better. As we rounded the corner to the UrbanPromise Campus, we saw the blazing orange foliage on a Maple tree in front of the elementary school. One of the students exclaimed, "Wow, look at that tree, I've become more aware of nature after being in it."
Keep on Trekking… even when the trail gets tough.
Jim
First a flash of golden light, then cascading brightness spills across the vast ocean surface towards the windswept shore of the barrier island...It's sunrise; we throw up our arms in celebration; a new day has begun.
I begin to read from Genesis One, the national seashore of  Assateague Island  inspires me  to share the creation story with my students for our morning devotion.  I love the story, the order of events, the language  and imagery explodes my imagination. "And God saw that it was good"; I imagine a loving God with an all knowing look of satisfaction in knowing what has been created is indeed "Good" and yes, perfect!
I ask my students to recall something they made, maybe in school, something they were proud of  and how it  felt to look at it afterwards.  They begin to tell me stories of craft projects they made in middle school and when they gave them to their parents or loved  ones and how it made them feel happy.  Jailyne, a very engaging sophomore tells us about the canoe she made last year in Urban BoatWorks.   It  was a yearlong project that when she finished she launched onto the Cooper River.
She told us about how it made her feel really proud of what she had accomplished  but the best part  was  being able to share her boat, first with her Mom and now her classmates when they paddled the western side of the Island on Chincoteague Bay alongside the Islands wild ponies.  Wow! I realize Jailyne just gave me the best interpretation of Genesis One I could ask for.   A verbose Old Testament scholar couldn't say it better.
Moments later several pods of porpoises, their recognizable dorsal fins surfacing as they seek precious air for the southward journey reveal themselves just beyond the surf.  I tell the students, "It is Good", we all agree!
Keep on Trekking,
Jim
Luis reached down and gently picked up the quivering Monarch.  The early morning air was crisp as our UrbanTrekkers gathered at the ocean's edge for the October morning sunrise.  As Luis picked up the gentle and resilient butterfly, I was afraid it might be injured; Monarchs usually wait for the sun's warmth before they venture out for their daily journey migrating to the Trans Volcanic Mountains outside Mexico City.  Later in the day, though, Goldenrods at the shore line will see hundreds of these passing travelers.
I watched as he held the little creature in his cupped hands and exhaled warm air onto the butterfly's visibly shaking wings.  Luis told us he wanted to save the butterfly and bring it home to Camden to give to Grandmother.  I didn't say anything, for I thought that this little creature was certainly in peril.  The Monarch clung to Luis's shirt, absorbing his body warmth and gaining strength as the sun rose above the ocean horizon.
I realized that this little guy just might be ready to travel.  I had to tell Luis that taking this butterfly home to Camden was the wrong direction for the Monarch to go: he needed to go South and we were heading North. I explained that God had a plan for this creature, a plan that didn't line up with the plan Luis had envisioned. I shared how often that is the case in our lives and the plans we make.  Luis gave me a look of reluctant understanding as he again cupped the Monarch, raised his hands upwards and released our beautiful little friend to continue his miraculous journey to the winter sanctuaries in Michoacán.