Blog: 2013
Love in the Harshest of Places
I recently saw a posting on Facebook from one of my Trekkers who is now a junior at Eastern University in which he shared his personal feelings on faith. 
 This is what Vincent wrote:
"I think I connect best with God through nature. It's something about the weather and wilderness that makes me believe even more. That and my personal day-to-day experiences."
Vincent and I share a wonderful history of travel and Trekking during his high school years at the UrbanPromise Academy.  Of course, our travels together were not always perfect nor without tensions.  One experience that brings us both to laughter these days took place during his freshman year.  We were spending a week in Florida visiting the Everglades and the Keys, hiking, canoeing, and snorkeling.  One night, after all the students were supposed to be in their bunk rooms with lights out, I caught Vincent and a few of his fellow Trekkers outside their room.   I confronted the young men and stopped them when they began to explain their reason for being up.  My too quick and unfiltered response was, "Don't even give me any B___S___!" Vincent, surprised at seeing an angry Mr. C, responded, "But Mr. C, we're only kids!"
Vincent and I, along with his classmates, would later travel and experience some of the most amazing things to be seen in nature.  We rode horses together up the steep, rugged mountain trails of Sierra Chincua Sanctuary in Mexico's Transvolcanic Belt to see the monarch butterfly in its winter habitat. We've hiked and camped along ridgelines on the Appalachian Trail. We've kayaked along Maine's jagged coast with Atlantic Harbor Porpoises and Minke Whales swimming past us. We've been awed together!
For a young man from the hardened and unforgiving streets of South Camden, where drugs, prostitution, and violence are often the experience that influence and define who children become, Vincent chose something different.  I can't help but get emotional when I think of the role Trekkers has had in Vincent's life.  I also know Vincent has been blessed with a loving and caring mother and father and an entire network of people throughout both his community and UrbanPromise that rejoice in who he's become.
And like Vincent, it has been the magnificent sunrises and mountain summits where God's power and majesty has been revealed to me. But it is through Vincent that I feel and see more than ever the face of God and his love even in the harshest of places.
Have a Blessed Christmas and a Purposeful New Year,
Jim and all the Trekkers
Something Old, Something New
What an amazing year!  It has been a year full of innovation and deepening of traditions for UrbanTrekkers.  I'm overwhelmed with both gratitude and joy that I feel from being surrounded by staff, friends, volunteers, and students.  As we work with our youth and deepen our relationships with them, we realize that we don't just help to transform the lives of our students. We also see transformation in our own lives.
Those transformative relationships grow through nights around campfires, hikes in beautiful places, and hours working in the shop side by side building boats.  These are the places where we find our true selves. These are the places we become who we were made to be.  
Our youth and mentors reached new heights in 2013 as the year provided many new and exciting opportunities.  This year for the first time ever, we held an expedition where UrbanTrekkers from UrbanPromise Ministries in multiple cities came together for a two-week, 2,500 mile expedition through five national parks in Colorado and Utah.  We've begun to create a training and support model for UrbanPromise staff and interns to lead the way in outdoor education in their own cities.
More students than ever walk around campus wearing their Trekker Vest as a symbol of honor earned through hard work and grit.  The walls of the UrbanPromise Academy high school display the student plaques with their badges of achievement earned over their high school careers for things like backpacking, paddling, and boatbuilding.  From new student orientation to the Senior Rites of Passage, we mark the journey with time-tested traditions.
We now host over 50 students in the boat shop building traditional skiffs, cedar strip kayaks, and stitch and glue paddleboards and canoes.  The students in our advanced build exhibit craftsmanship and a maturing confidence in the quality of the craft they produce.
All that being said, we could never build relationships and character in our students without your love and support. This year has been remarkable because of you. For this we are abundantly grateful.
Jim Cummings
Director of Experiential Learning
Go, Siani, Go!  We cheered from the shoreline of the river's regatta course. We were watching the Frostbite Regatta,
the last regional rowing competition of the season with races for collegiate athletes and high schoolers.  We were all there, her mom and dad, our staff, and volunteers from the Urban BoatWorks boat shop. Siani was rowing in the girls' 2000-meter high school eights event as a member of the Cooper River Club Rowing Team. 
Siani is a freshman at the UrbanPromise Academy and has participated in our BoatWorks program since she was a sixth grader at our middle school.  By eighth grade she was part of the advanced build, crafting cedar strip canoes and kayaks for use in the UrbanTrekkers paddling program.  Being on the water, paddling small boats and rowing, has become a familiar place for Siani, a place where she is a leader.
Watching her and her teammates propel their long sleek sculls through the water, pulling their oars together in cadence, I felt a special joy realizing that the vision of BoatWorks has become a reality.  Siani embraced the river and developed a discipline and work ethic to realize a vision for her own life.  Her days are long, school and practice till 6:00 PM everyday, with the exception of Thursday afternoons, when she's in the boat shop where she first developed her sense of belonging in the world of paddling.
Siani isn't simply wishing for a bright future of college and career, she has chosen and pursues that future.  Someone asked me a few years ago, "Why do you build boats with urban youth?"  Here's my answer. Meet Siani.
Keep on Trekking,
Jim Cummings
A few weeks ago, the 10th grade class at UrbanPromise Academy travelled to Assateague Island National Seashore in Maryland. Every year around this time, the sophomore class can be found playing football on the beach, digging for sand crabs, paddling the bay behind Assateague Island, and camping on the beach. The trip is a 
favorite of mine; I grew up camping with my family at Assateague and hold the place close to my heart. Students each year are awed by the beauty of the sunrise over the Atlantic and the clarity of the night sky.
One activity that we often do with the students is to walk the Life of Dunes trail, a path in the national park that takes you through the dune ecosystem to the forest and explains how barrier islands function to protect the mainland. It's the best lesson in ecosystem adaptations you could ever ask for, as students can see right in front of them the differences between a plant that grows on the dunes versus in the woods or how a dune could come to be formed there.
On this particular trip, we had several students along who participated in our Colorado and Utah expedition over the summer. Those students visited Great Sand Dunes National Park in Colorado, which has a very different ecological and geological history than the sand dunes at Assateague. And as we were reading signs on Assateague about how the dunes come to stand and stay standing there, Tabitha, who went to the Great Sand Dunes, spoke up with a question. She said, "So wait. How are these dunes different than the ones I hiked all the way up in Colorado?" We went on to explain the differences in their formation and function and Tabitha can now tell you the difference between those two sets of dunes.
For me, when Tabitha asked that question in her typical sassy and curious fashion, her travels and adventures with UrbanTrekkers came full circle. Tabitha is a student that takes every opportunity she can get to travel with UrbanTrekkers and as a result has been to and seen more places than the vast majority of students her age. Because of her willingness to jump in headfirst to whatever Trekkers has to offer, she is able to compare and contrast ecosystems from firsthand experience, rather than just from pictures in her science textbook. And for a student like Tabitha, who shows a refreshing curiosity that is often lost in teenagers, learning and making connections like that on a beach will keep her engaged and eager to learn. That's the beauty of UrbanTrekkers.
A "Peace" of UrbanTrekkers Honduras
It's here! UrbanTrekkers Honduras has officially launched! Though still in the beginning stages, I was amazed at the responses and involvement from the youth and volunteers living in Copán Ruinas to the newest program offered by UrbanPromise Honduras.
Founded in 2004 by Jim Cummings in Camden, NJ, the mission of UrbanTrekkers is to be an outdoor, hands-on, up-close learning and mentoring program, where the world is our classroom. UrbanTrekkers has now expanded to several UrbanPromise sites around the world, including our very own Copán Ruinas!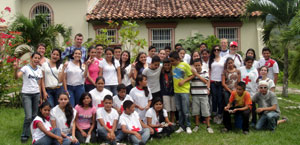 Looking back at the month of September, I'm blown away that we packed as much as we did into a single month. A weekend retreat in Siguatepeque, our first annual Trek for Peace, a volunteer opportunity with a macaw release program, and a local 8 mile (13 km) hike! Though there's so much to share, I'll start with what I would say was our greatest event of the month.
What does peace mean to you? That was the question that each of the thirty five youth who participated in the "Trek for Peace" asked of community members during our 5K walk through town. Our "Trek for Peace" was held on September 21st, in honor of International Day of Peace, sanctioned by the United Nations in the 1980s. 35 youth and 12 adult volunteers walked approximately five kilometers through the streets of Copán while engaging in discussions on the meaning and significance of peace, completing teambuilding and leadership initiatives, serving those in the community, building relationships with other youth, and learning what local organizations are already doing to help bring peace to others.
We heard from representatives of the Red Cross to learn about local volunteer opportunities, learned about the Hebrew greeting, "Shalom," which when translated, means "Peace," visited a local café which also works with local schools to raise awareness of reforestation projects, filled several bags of trash from the streets along the way, and did our best to plant seeds of peace along the streets of Copán in whatever way we could. One girl was so inspired after our talk of "Shalom," that she reached in her pocket and handed a homeless man the cash she had on her. Several boys grabbed the extra bags of water we had with our group and started handing them out to people who looked thirsty in the park.
The day ended in a cookout and with the challenge to look for opportunities to bring peace to their community. What stands out to me most from this day was not the distance we walked, the activities we completed, or even the fact that 35 youth listened and understood all my instructions in Spanish, but the fact that so many youth and adult mentors showed up to be part of this experience. We had teenagers from UPH, the Red Cross Youth Association, Mayatan (the local private bilingual school), and the public school systems. Our volunteers showed up from UPH, Mayatan, the Red Cross, Heart to Honduras, and local businesses. That to me is a testament to society's longing for peace. The Trek for Peace was a chance to unite those in the community in an endeavor to bring lasting peace between nations, communities, family, God and man.
So what is peace? Well according to those who walked the streets of Copan on September 21st, peace is far more than just a nice word or slogan. Peace is wholeness. It's a lack of fighting and war, but also it is replaced by a fullness. "Shalom Shalom," or "Perfect Peace," is something God offers us through His Son. Perfect peace means all our relationships- with God and with man- are complete; there's nothing lacking. This is the peace we hope to see in Copán someday. And slowly but surely, Shalom is coming to the lives of the youth, children, and families living in this city. 
Pages