Blog: 2014
"I can honestly say I had the best summer of my entire life! So many opportunities came to me and I took them, and it resulted
in a great summer. I met so many new people and built great relationships with them, in Miami, in Colorado with Honduras Trekkers, and in Maine.  I also learned so much about myself and others. I'm grateful for everything that God has blessed me with."  —Kytara, 11th grade Trekker at the UrbanPromise Academy
People often ask me about the impact UrbanTrekkers has on our students, and more often than not, there isn't much I can add to their own descriptions.  Kytara is a young woman who has flourished during her time with Trekkers, taking advantage of every opportunity that comes her way.  I've seen her time and time again take on both physical and mental challenges that push her beyond what she believes she can do.  With each new experience, she moves the bar higher for herself.
There are many circumstances in the lives of our students that they cannot control, but with your support, we provide opportunities and experiences that can help them define who they become.  Thank you for making a difference in Kytara's life. She is someone you are going to want to know! 
"What gives value to travel is fear. It is the fact that, at a certain moment, when we are so far from our own country…we are seized by a vague fear, and an instinctive desire to go back to the protection of old habits. This is the most obvious benefit of travel. At that moment we are feverish but also porous, so that the slightest touch makes us quiver to the depths of our being. We come across a cascade of light, and there is eternity. This is why we should not say that we travel for pleasure." —Albert Camus
Keep on Trekking,
Jim
Seeing Nature Like a Kid Again
Before arriving in Camden, I wasn't sure what my summer internship with UrbanTrekkers would hold. Over the past two and a half months, I spent two days on Sedge Island with the freshmen learning about marine habitats. I rowed a whaleboat for 15 miles along the Delaware River, paddled multiple times along the Cooper River, competed in the Philadelphia Dragon boat Regatta, and participated in a 5-day, 190-mile bike ride through West Virginia, Pennsylvania and Maryland. I also took part in UrbanPromise's annual Paddle for Promise where staff and friends of UrbanPromise paddled 52 miles in OC-6s over two days with stops in Trenton, Wilmington and Camden to raise money for teen employment in Camden.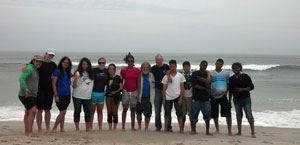 During this internship, so many experiences have been new for me, making me feel like a kid again. I am from Vancouver, British Columbia and coming to New Jersey was my first time on the East Coast. Seeing the Atlantic Ocean for the first time was very exciting for me, but what made it a moment that I will never forget was that I got to share it with MJ, a freshman who had never seen the ocean before. I felt unbelievably honored to walk beside her toward the crashing waves. She first commented on how weird the sand felt between her toes and as we got closer and closer toward the ocean she became frightened. She said she was scared and when I asked her why and she told me it was because "it's so big."
Hearing MJ's initial reaction to the ocean gave me new perspective and appreciation. Sharing this moment with her made me think about my own life and how many times I overlook nature's beauty simply because I am used to it.
Some of life's most amazing adventures are at first big and scary, but if we never take a chance or are never given the opportunity to experience them, we can go about our whole life missing out on some of life's most beautiful gifts. I believe that if we all approached nature with a certain vulnerability and awe, our perspective and appreciation of the outdoors would change greatly.
What I love about UrbanTrekkers is that it provides students with a hands-on learning environment, where they're immersed in nature, given the chance to feel vulnerable in unfamiliar environments, and experience life outside of the city, some for the very first time.
Keep on trekking,
Elise
In the NEWS: Boatworks program helps Camden teen discover love of rowing
UrbanPromise's BoatWorks program was the starting point for Camden teen Siani Burgess' love for rowing.
Siani Burgess didn't know picking up a canoe paddle would change the course of her young life.
She smiles and shakes her head when asked about a photograph of her on the water for the first time last year. In the picture, Siani looks a bit shy, even timid.
She sits awkwardly in a wooden canoe, but she smiles. She incongruously holds a powder blue umbrella — and a paddle.
A girl who grew up surrounded by the waterways that define Camden, Siani had not only never been on water, she didn't much like to swim, either.
Despite her height, basketball was a non-starter. A bit girly, she hates getting dirty and likes her hair and clothes just so. Tried soccer and karate — quit both after just a few weeks.
Siani had the umbrella with her on a trip with Urban BoatWorks —an experiential program that exposes city kids to the outdoors —because there was a drizzle that day on the Rancocas Creek — and "I have African-American hair!"
But the umbrella made going fast impossible.
"I was like that," she explains, emphasizing the past tense.
Something clicked that day, though. Siani put down the umbrella, grabbed the paddle with two hands, and put her arms, back and heart into making the canoe go.
She's been going since. These days, she rows as fast as possible on the water.
Something clicked.
Siani was still reticent a few months later when she went to BoatWorks' hands-on, boatbuilding program.
The workshop teaches kids how to build boats from wood.
"I stand off," Siani says of how she reservedly approaches most new experiences.
But over time, something clicked again. The girl who'd never in her life picked up a hammer or a screwdriver was soon using power tools.
"I liked it," recalls Siani, flashing the radiant smile that comes to her when she considers things she's discovered about herself.
"It's like a moment you have. It helps you understand," she says of feeling the click slip into place.
Next in her progression came signing up for crew with the South Jersey Rowing Club on Pennsauken's nearby Cooper River.
By then, Siani knew some new things about herself: "I loved boats. I knew I loved water. I wanted to be in the water. Mom bought me a pair of sweatpants and signed me up."
First, though, there was the matter of the $1,500 cost, a stretch for a single mom on a nurse's salary, like LaPree Burgess.
"I've got to invest in my daughter," insists the 35-year-old ICU nurse at Cooper University Hospital on funding a season of crew.
"I've got to give her a shot."
Fact is, LaPree has invested her life in Siani since the girl was just 6 months old. That's when LaPree — just 21 at the time — put aside her ambition to become a doctor and took in Siani, a cousin who came to her in a court-ordered placement.
LaPree knew then with her schedule and finishing college nursing classes she could serve as a lifeline only for Siani and not her siblings.
It was the spring semester of her first year at nursing school. Some days, Siani got dropped at day care as early as 5:45 a.m. and picked up as late as 7:30 p.m., allowing LaPree to get some studying done before taking her baby home. LaPree's mother was nearby to lend a helping hand.
LaPree's adoption of Siani became official in 2009.
Maybe LaPree's long-term investment in Siani is why her the latter stuck with rowing despite initial unease.
"When I first started, everyone was looking at me. It was like they were saying: 'Who is she? She's in the wrong place.' '' the teen recalled.
"I was the only African American. The only black person. I felt intimidated. But I had it in my mind I was going to stick.
"I told myself I'm gonna get in the boat and do it."
Do it she has.
"I'm walking on faith," notes LaPree. "Siani, she's walking on water."
Promise of help
There's a full-circle aspect to Siani's involvement in BoatWorks, sponsored by UrbanPromise.
Back when LaPree was also 14, she went to work at a summer camp sponsored by UrbanPromise. Her counselor was Jeff VanderKuip, a carpenter.
Today, he volunteers as overseer of BoatWorks, showing Siani how to make boats.
Ever protective, LaPree had sent Siani to UrbanPromise Academy, a private Christian school, rather than the Camden public schools. Next year, she moves to The King's Christian School in Cherry Hill.
And while LaPree had previously gone through the UrbanPromise summer program, it was Siani who suggested going on the canoe trip and trying boat building.
The building program began in the summer of 2009, according to founder Jim Cummings, a Pitman resident who sold his business and devotes his life to helping UrbanPromise youth.
That first year, they built five rowboats, including three named Promise, Faith and Grace.
By Kevin Shelly, Courier-Post
The Art of the Road Trip: Chapter 3
Yormelis is a freshman at the UrbanPromise Academy. When you first meet her, you'd never expect the witty, take charge personality that emerges from underneath her reserved, quiet exterior. Yormelis moved here from Puerto Rico six months ago and has thrown herself whole-heartedly into everything that UrbanPromise has to offer:
A few weeks ago, Yormelis decided she wanted to ride in the Pedal for Promise. So we put her on a bike, taught her how to use it, and then she rode 23 miles across the Ben Franklin Bridge.
Last week, Yormelis went with the UrbanTrekkers to Mount Washington in the White Mountains of New Hampshire. She had never been hiking before or been away from her family for more than two days. So we took her to New Hampshire for five days, where she hiked 6 miles on a steep, ice-covered trail to Tuckerman's Ravine. She was the first student to reach the summit.
Yormelis excels at the UrbanPromise Academy, getting A's in her classes despite English being her second language. On the side, she's teaching herself to speak Korean.
Students like Yormelis bring the Trekker staff joy, encourage us in our work, and push us to strive for excellence and be creative in our programs. We are thankful for her and thankful for our supporters that make the UrbanTrekker program possible.
Keep on trekking,
Julia