Blog: July 2014
Seeing Nature Like a Kid Again
Before arriving in Camden, I wasn't sure what my summer internship with UrbanTrekkers would hold. Over the past two and a half months, I spent two days on Sedge Island with the freshmen learning about marine habitats. I rowed a whaleboat for 15 miles along the Delaware River, paddled multiple times along the Cooper River, competed in the Philadelphia Dragon boat Regatta, and participated in a 5-day, 190-mile bike ride through West Virginia, Pennsylvania and Maryland. I also took part in UrbanPromise's annual Paddle for Promise where staff and friends of UrbanPromise paddled 52 miles in OC-6s over two days with stops in Trenton, Wilmington and Camden to raise money for teen employment in Camden.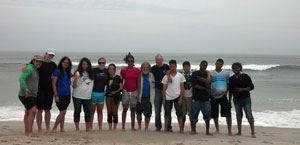 During this internship, so many experiences have been new for me, making me feel like a kid again. I am from Vancouver, British Columbia and coming to New Jersey was my first time on the East Coast. Seeing the Atlantic Ocean for the first time was very exciting for me, but what made it a moment that I will never forget was that I got to share it with MJ, a freshman who had never seen the ocean before. I felt unbelievably honored to walk beside her toward the crashing waves. She first commented on how weird the sand felt between her toes and as we got closer and closer toward the ocean she became frightened. She said she was scared and when I asked her why and she told me it was because "it's so big."
Hearing MJ's initial reaction to the ocean gave me new perspective and appreciation. Sharing this moment with her made me think about my own life and how many times I overlook nature's beauty simply because I am used to it.
Some of life's most amazing adventures are at first big and scary, but if we never take a chance or are never given the opportunity to experience them, we can go about our whole life missing out on some of life's most beautiful gifts. I believe that if we all approached nature with a certain vulnerability and awe, our perspective and appreciation of the outdoors would change greatly.
What I love about UrbanTrekkers is that it provides students with a hands-on learning environment, where they're immersed in nature, given the chance to feel vulnerable in unfamiliar environments, and experience life outside of the city, some for the very first time.
Keep on trekking,
Elise