Blog: May 2017
"It's all right man…we all face difficult times. I remember when I first started paddling, I couldn't get it. I still don't get it all the time now. You know, it's kind of like life- we'll face our good days and our tough days. But we're here to support you through it…"
These were the words of Christian, a freshman at UrbanPromise Academy, to one of his upper classman peers while on our Spring Break Outdoor Leadership Training trip. A freshman! His gentle humility, compassion, and wisdom astounded me in the moment.  Did I mention he's a freshman? You see, we had just gotten off of a time of canoeing on Lake Nockamixon, and there was one canoe without an experienced paddler. We had pre-taught all the strokes for steering, stopping, and going, but they struggled. I could tell one of the students in the inexperienced boat was getting frustrated at their inability to control the boat. We tried every approach at coaching them through the strokes- steering was definitely not their strong point- not that day anyway. Eventually I saw a shift from frustration to anger- I was worried their canoe buddy would end up getting the brunt of a blow up, along with those trying to throw out advice (i.e. me!). They never went off though- they exercised extreme self-control, even if they weren't able to exercise much canoe-control in the moment!
Destiny was on shore listening in on our paddle commands over the radio, and when we were close to shore, she asked if she could come down and help us get the boats in. I saw her from a distance - she started waving her hands signaling us to our take-out spot, and over the radio started singing the sweet melody of, "lean on me…when you're not strong…I'll be your friend…I'll help you caaaaaary ooooooon…." I also had reached the point of frustration in those last several minutes, but it all faded away when I heard Destiny welcome us in with outstretched arms and her heartfelt melody.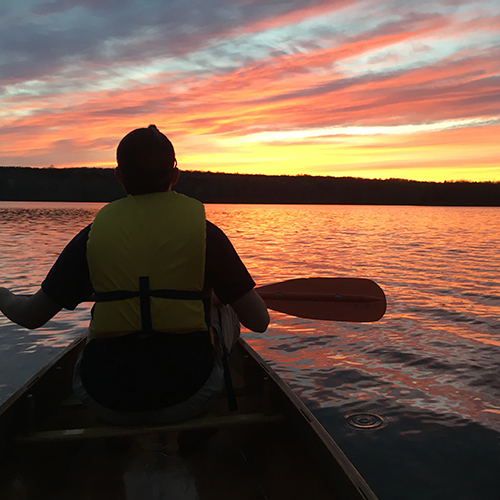 After pulling our canoes up, our frustrated student headed back to the cabins and called Christian over. I joined them, and that's when I got to listen in on Christian's wise advice for his friend. My heart was touched- doubly so with Destiny's act of compassion. Once everyone had calmed down and changed into some warm clothes, we met up for dinner. Erin, our ever-amazing volunteer had jumped in for cooking duty that night when she saw us all struggling with the boats back to shore. She and Destiny cooked us up a delicious warm meal to close out our week. Everyone gathered around the table for our final big meal together- conversations had lightened once again, laughter could be heard from every side of the table, and everyone was extremely grateful to get to finally eat! The student who earlier had been so frustrated led us in a blessing for the meal, and in that blessing, thanked God for the family seated around the table.   
Like many of the students in our community, the frustrated canoeist has had a difficult family history in his 18 short years.  I've heard the word "family" used to reference the UrbanTrekkers and UrbanPromise community on multiple occasions, and it holds special meaning to all of us. That difficult afternoon turned into a beautiful moment of serving and supporting one another. It turned into an afternoon of being a family.