Blog: June 2017
"I don't want to do this anymore!" Yelled Danieliz as we stopped paddling. I had thought we were closing in on the take-out for our three day canoe journey, but it turned out I had misidentified the building we had been aiming for along the coast of the Lower Saranac Lake. Danieliz was tired. As was I.
We'd been paddling about four hours that day- but that's not to mention all that had taken place the preceding days. Day one of our expedition we had six miles of swift paddling down Upper Saranac Lake. We were sore by day's end, but nothing compared to day two. Upon waking to our second day on the water, we paddled about a mile through the cold and rain to a portage spot, where we had to carry our canoes and all our gear about half a mile between Upper and Middle Saranac Lake. Half a mile may not sound very far, but when you consider our wooden canoes, personal gear, food, kitchen supplies, firewood, fuel and paddles (and remember- it was still raining), that half mile seemed much longer! That was the day Danieliz sprained her ankle on the trail. Day two of that trip will stand out in infamy for us all. Once we finally moved our gear to the end of the portage, the rain let up. We took a moment to just sit, eat some lunch and revel in our victory. Then it began raining again. We threw an impromptu dance-off in order to get the blood flowing to our hands and feet before hopping in our canoes for the last couple miles of paddling that day.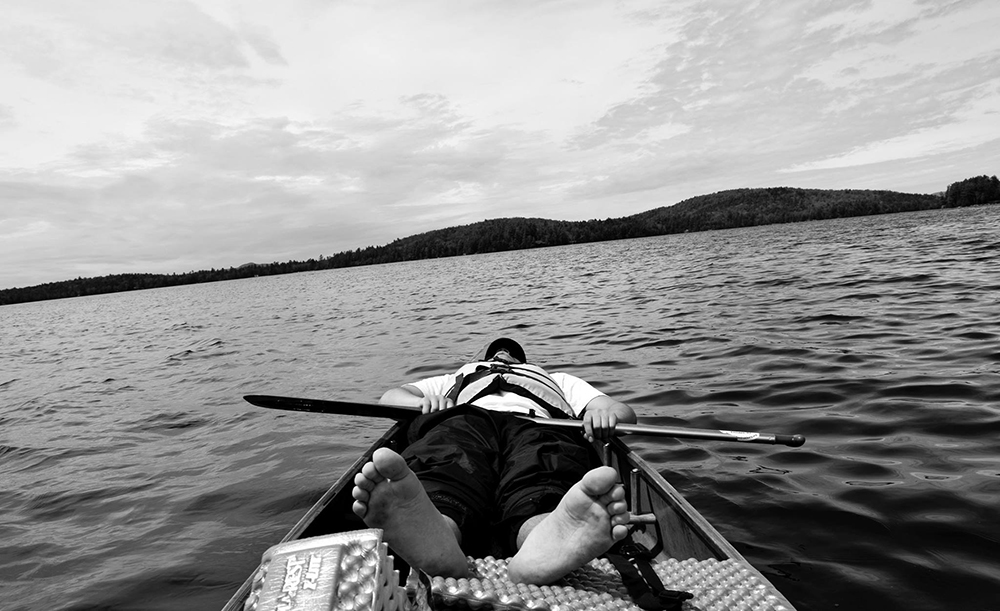 Our third and final day of paddling was the longest- about eight miles, and it was the eve before each student would be entering their 24 hour period of solitude. We paddled right past the islands that each student would soon be occupying. That was the day Danieliz said she couldn't go any further…but eventually, we kept moving, and to all of our delights, discovered that our take-out spot was just around the bend!
That day I dropped each student off on their own personal island for the next 24 hours. They set up their own campsites, cooked and took time to reflect on what they want to leave behind as they graduate, and what kind of life mission they want moving forward. When I picked up Danieliz the next afternoon, she was beaming. She, and really all of the students, were so proud of their self-accomplishment. They had survived their night alone (and it didn't rain!).
After picking students up from their island we headed to Keene Valley Hostel for our last night together and our final debrief time. It was there that each student shared what they had learned from their experience that week, but most especially, the things they reflected on during their stay on the island.
Each student chose an object from their island to throw into the fire as a representation of what they were leaving behind from their past life. As Danieliz' was enveloped in flames, she explained that she was leaving behind the words, "I can't." Now that she had paddled over 15 miles, survived the portage day with a sprained ankle, and spent 24 hours alone on an island, she knew she could do anything! I knew it too. To accomplish so much in such a short amount of time is a reminder to our students that they are more resilient than they think they are. Some of our students face trials on a daily basis that are just as extreme as our Rites of Passage, but I know that God reveals Himself in those times to be closer to us than we think. My prayer for those who are graduating this week is that during difficult times, Christ reveals Himself to be more real than ever before. Through Him, our students can cross any waters, climb any hill, and overcome any obstacle.