Home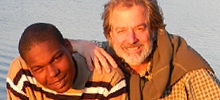 Our Mission
UrbanTrekkers' mission is to be an outdoor, hands-on, up-close learning and mentoring program, where the world is our classroom. We travel to places beyond students' everyday lives, to sites where learning comes alive and students have room to grow. 
What We're Doing...
UrbanTrekkers' expeditions and boat-building adventures are designed to educate and empower youth. Learn more about our current travels and builds and what's to come!
UrbanTrekkers and Urban BoatWorks couldn't operate without our supporters and volunteers. Consider joining us in the boat shop, sponsoring a Trekker, or helping to fulfill our wish list!
Read Our UrbanTREKKERS Blog
Jun 16, 2022
     The lights dimmed upon the stage as a scene ended and the audience gasped as an actress said the final cutting word in an outburst. "Damn," a student next to me, eyes wide, then covered his mouth and smiled, "I didn't mean to say that out loud." I laughed but fully understood the sentiment. The musical Grace in Ford's Theater was beautifully passionate and it was only one part of our 11th...