Home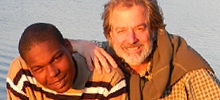 Our Mission
UrbanTrekkers' mission is to be an outdoor, hands-on, up-close learning and mentoring program, where the world is our classroom. We travel to places beyond students' everyday lives, to sites where learning comes alive and students have room to grow. 
What We're Doing...
UrbanTrekkers' expeditions and boat-building adventures are designed to educate and empower youth. Learn more about our current travels and builds and what's to come!
UrbanTrekkers and Urban BoatWorks couldn't operate without our supporters and volunteers. Consider joining us in the boat shop, sponsoring a Trekker, or helping to fulfill our wish list!
Read Our UrbanTREKKERS Blog
Mar 9, 2023
  "I never thought I would be able to have fun with kids my age doing things like this." This was shared during a moment of reflection on the first night of our 11th grade trip to Washington DC. Each and every night of a Trekker Trip, we make it a practice to gather around in a circle, known as a circle up, where we intentionally slow down and talk to one another. Similar to a campfire, a circle...