Home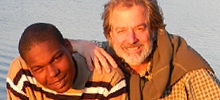 Our Mission
UrbanTrekkers' mission is to be an outdoor, hands-on, up-close learning and mentoring program, where the world is our classroom. We travel to places beyond students' everyday lives, to sites where learning comes alive and students have room to grow. 
What We're Doing...
UrbanTrekkers' expeditions and boat-building adventures are designed to educate and empower youth. Learn more about our current travels and builds and what's to come!
UrbanTrekkers and Urban BoatWorks couldn't operate without our supporters and volunteers. Consider joining us in the boat shop, sponsoring a Trekker, or helping to fulfill our wish list!
Read Our UrbanTREKKERS Blog
Oct 17, 2018
CAMDEN, N.J. (CIRCA) —Yasiria Lugo spent her summer building handmade canoes, kayaks and paddles in one of the most dangerous cities in the nation. For her, the do-it-yourself projects weren't simply summer pastimes, they were a point of pride. "You would never think kids in Camden are doing this," said Lugo, "Like 'what? A kid in Camden is building a boat?" Like, 'yeah, we are...they're really...